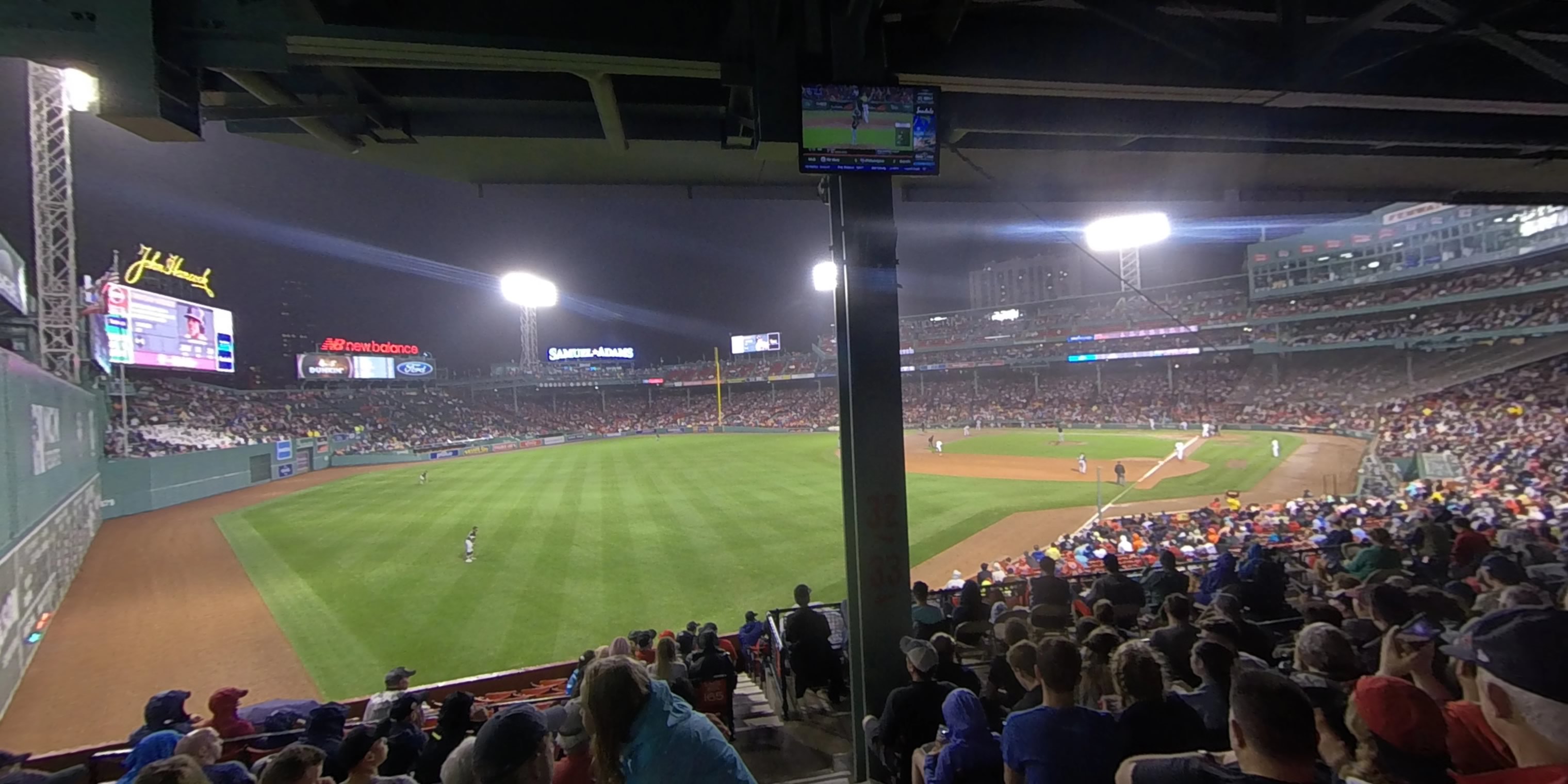 Fenway Park Grandstand 33
Grandstand 33 Seating Notes
Recommended seating for kids and family
Rows 1-2 are recommended for unobstructed grandstand views
Alcohol is prohibited in Grandstand 33 for Red Sox games
Row Numbers
Rows in Grandstand 33 are labeled 1-15
An entrance to this section is located at Row 15
Seat Views & Related Photos
Ratings, Reviews & Recommendations
Clear views from the first 2 rows
Grandstand 33, Row 1-2
At Rows 1 and 2 in Grandstand 33 you will be safely in front of any obstruction caused by the support pillar at the right (located at Row 2). Sit any higher and you do run the risk of any obstructed view from that right side pillar.
Not easy to find a clear infield view
Grandstand 33, Row 3-15
Grandstand 33 is a smaller section located right next to the monster in the left field corner, and unless you're in either Rows 1 or 2, you'll have a difficult time trying to find a clear view to the infield. Your best bet is stay either in a low row (3 through 6) near the left side of the section, or in a higher row (12 or above) near the right aisle.
Grandstand Down the Line

(Seating Zone) -

Grandstand seating down the line at Fenway is an inexpensive way to take in a game at Fenway. Because you are relatively far away from the field, the numerous poles of the grandstand come into play wh...

"Never Again!"

(Grandstand 29) - -

The view could not possibly have been any worse. The beam right in front of the seats was in terrible position, blocking any view of the batters box or home plate area. Had I been in seat 1 or 2, I could have seen some of home plate, although you'd be following the pitch through the beam as it mak...

"Pretty good seats if you don't mind the support poles"

(Grandstand 10) - -

For affordable seats, they weren't awful. The view of the diamond included a support pole, but it was strategically placed between the pitcher's mound and home plate, so you could see the throw and batter's response pretty well. If you wanted to see anything on the jumbo screen (replays or any oth...
Other Popular Seating Choices
RateYourSeats.com is the best way to search, compare and buy tickets. Select an event to find out why!