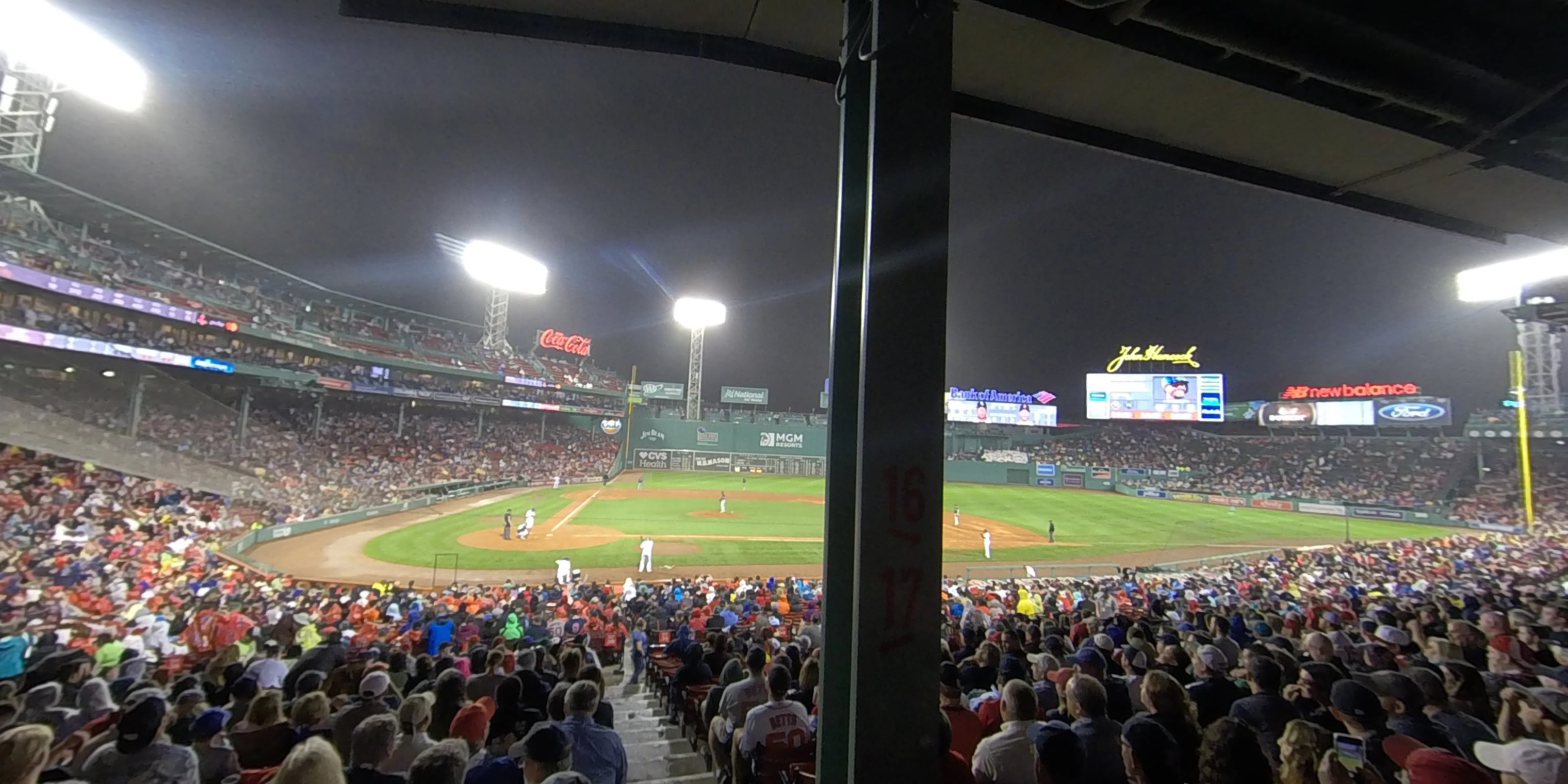 Fenway Park Grandstand 17
Grandstand 17 Seating Notes
Rows 13-18 are recommended for outstanding convenience
Rows 1-3 are recommended for unobstructed grandstand views
See all shaded and covered seating
Row Numbers
Rows in Grandstand 17 are labeled 1-18
An entrance to this section is located at Row 18
Seat Views & Related Photos
Ratings, Reviews & Recommendations
Clear views of pitchers mound and batters box in Rows 1 through 3
Grandstand 17, Row 1-3
Although you might have some difficult views to second base in the seats on the right side of the row, all seats in Rows 1-3 of Grandstand 17 will have unobstructed views to both the pitchers mound and batters box. For the best views here, sit near the left aisle.
No pitchers mound view from right side
Grandstand 17, Row 4-16
Seats near the left aisle will be great, but closer to the right aisle in Rows 4 and higher in Grandstand 17 will leave you with a tough and sometimes non-existent view of the ball leaving the pitchers hand.
Grandstand Infield

(Seating Zone) -

Grandstand seats, especially on the infield are the biggest gamble when it comes to obstructed seats. Even if you are not directly behind a support, you may encounter a pole when looking towards the p...

"Not as bad as most in grandstand "

(Grandstand 15) - -

Sitting in the middle of the row seems to be the best bet here. Clear view of the infield and the one pole blocking RF is far enough away that it really isn't a bother.

"Convenient and shaded, but crapshoot view"

(Grandstand 18) - -

Last row in the section, but there's nothing really nearby to walk to. You're taking a gamble sitting here. Seats 1-4 seem to be safe but anything to the left will deal with the pole. And all seats will deal with the overhang. Small tvs are pretty much worthless.
Other Popular Seating Choices
RateYourSeats.com is the best way to search, compare and buy tickets. Select an event to find out why!