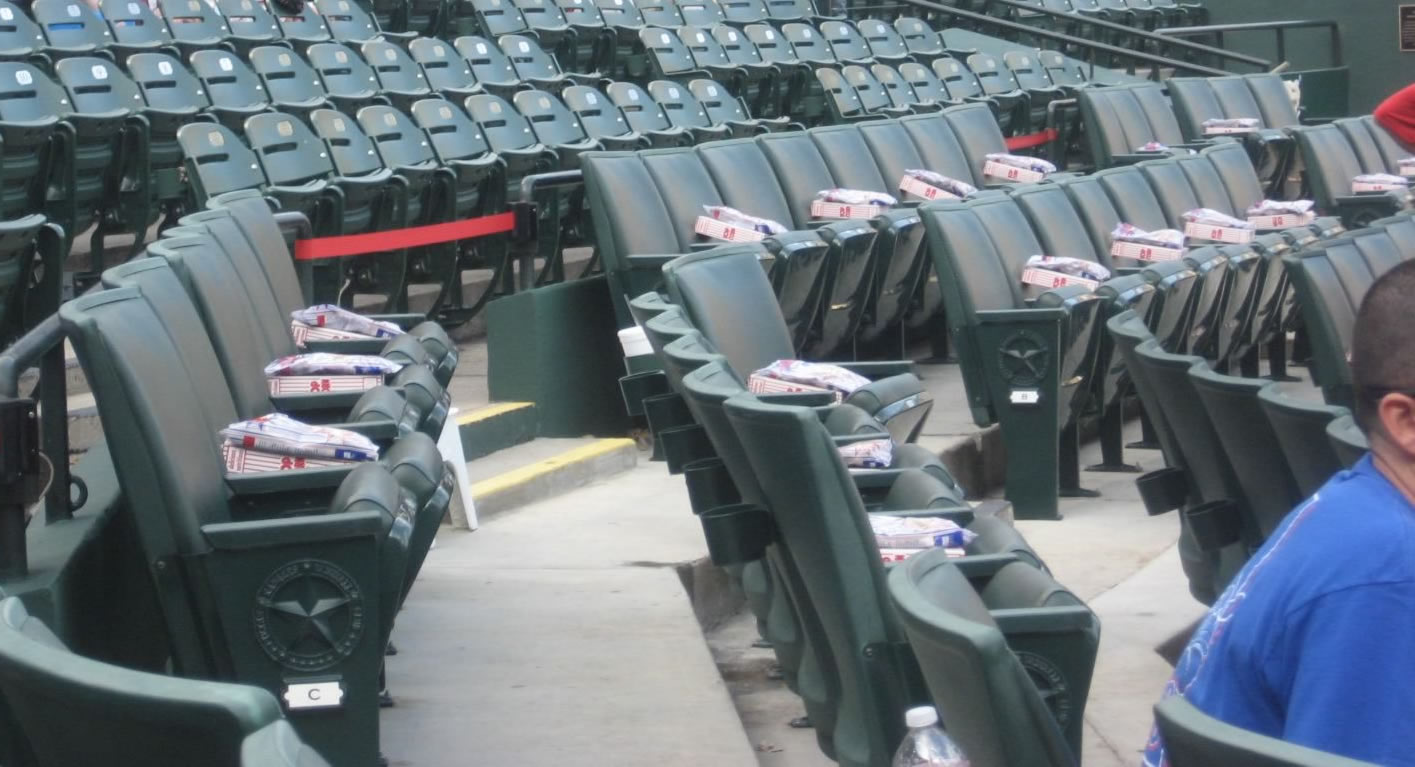 Best Seats for Impressing a Guest at Globe Life Park
Recommended seats are highlighted on the map
For fans looking to impress a guest at a Rangers game, there are a number of seating options at different price points. These include multiple options at field level, along with premium seating on the club level.
Among the options at field level are the Commissioner's Box seats that are located directly next to each team's dugout. These seats offer one of the best balances between close proximity and club access. Ticketholders will enjoy the game from the same perspective as the players, and the chief complaint is usually that the seats are too close to the field. Before the game, stop by the Stadium Club for a meal and then head to the Jack Daniels Club post-game for a drink. You'll have exclusive access to both club reception areas.
The Commissioner Boxes are the most exclusive seats at Rangers Ballpark. If those seats are unavailable - or if you're simply looking for something closer to home plate - try the VIP Home Plate Seats in the first three rows of sections 21-31. Ticketholders in these seats will enjoy a pre-game buffet and access to the ultra-exclusive Captial One Club.
If you don't mind sitting farther away from the field, consider bringing a guest to the club level seats in sections 217-235. You and your guests will enjoy in-seat wait service so you can spend more time together and less time at a concession stand. You'll also have access to the climate-controlled club lounge if you need to escape the heat. These seats can often be found for as cheap as $30 and are often priced about 75% less than the VIP and Commissioner Box seats. - RateYourSeats.com
Recommended Ticket Locations
Sections 222, 223, 224 and more
Sections C1 and C3
Rows A-C in Sections 21, 22, 23 and more
Other Popular Seating Choices
RateYourSeats.com is the best way to search, compare and buy tickets. Select an event to find out why!