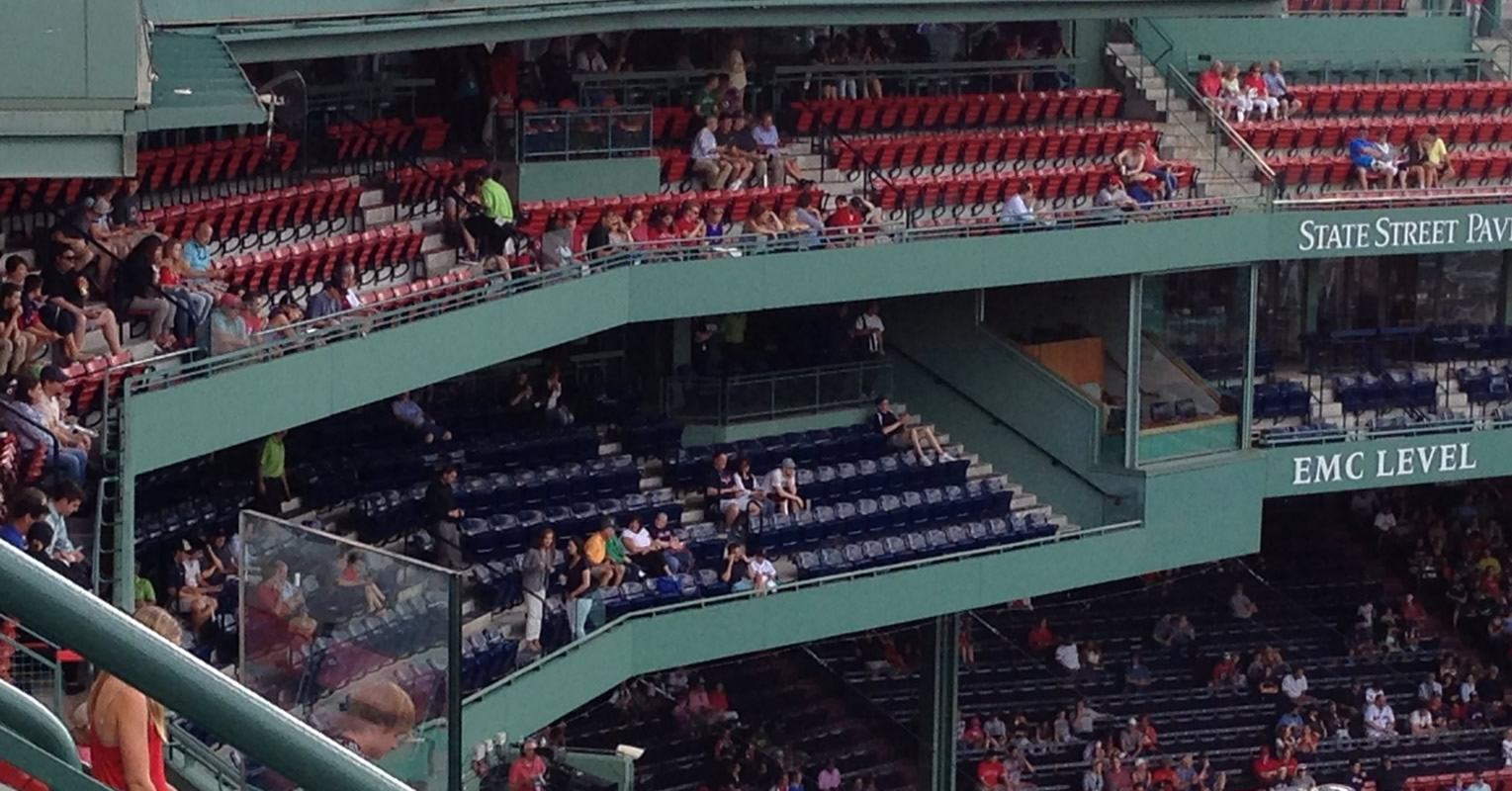 Best Seats for Impressing a Guest at Fenway Park
Recommended seats are highlighted on the map
Despite its age, Fenway Park has been remarkably well maintained and upgraded to accommodate even the most discerning baseball fan. While simply bringing a guest to a Red Sox game might be impressive enough, there are plenty of seating options to make the outing even more memorable.
If you're keen on giving your guest a one-of-a-kind experience, look no further than the Monster Seats above the Green Monster in left field. With less than 300 seats available for each Red Sox game, you'll be part of an exclusive group that gets to watch the game from perhaps baseball's most famous seats.
If you're looking for a more formal environment to host a guest, consider the EMC Club seats directly behind home plate. Though they're not at field level, their home plate location and perfect elevation give fans the best overall views of Fenway Park. Beyond an exceptional view, the outdoor seats are padded, under cover and come with wait service. When it's time to get down to business, you can enter the indoor club lounge for some fine dining or a seat at the wine bar.
While the EMC Club receives high marks for its upscale amenities and comfortable seating, the crowd has been known to be a bit dull compared to other areas of the ballpark. If you want to show a guest a great time and are looking for a more relaxed environment, consider the dugout seats close to the field or the Pavilion Club on the second seating deck. Dugout seats still include in-seat wait service, but you'll also be within three rows of the field and be surrounded by plenty of cheering Red Sox fans. The Pavilion Club also includes wait service, and fans seated in Row 5 of these sections will be able to enjoy their spoils at a ledge for bar-like seating with Fenway as the backdrop. - RateYourSeats.com
Recommended Ticket Locations
Sections EMC1 , EMC2 , EMC3 and more
Great elevated view from behind home plate
Fancy dining and environment with upscale casual clothing required
Exclusive Club Level amenities including padded seats and in-seat wait service
Sections M1 , M10 , M2 and more
One-of-a-kind Monster Wall seating
Unique perspective from top of the wall that only Fenway provides
Fewer than 300 seats make it one of the most exclusive areas of the ballpark
Rows 5 in Sections PC1 , PC10 , PC11 and more
In-seat wait service and direct access to the Club concourse
Row 5 seating is at a ledge - perfect for placing food, drinks and phones
Excellent sitelines for a comfortable and immersive experience
Sections HP1 , HP2 , HP3 and more
Sections 12 , 13 , 14 and more
Seating within three rows of the field
Television monitors are placed along the wall in front of Row A1
Exclusive amenities only offered to Dugout Seat guests
Other Popular Seating Choices
RateYourSeats.com is the best way to search, compare and buy tickets. Select an event to find out why!