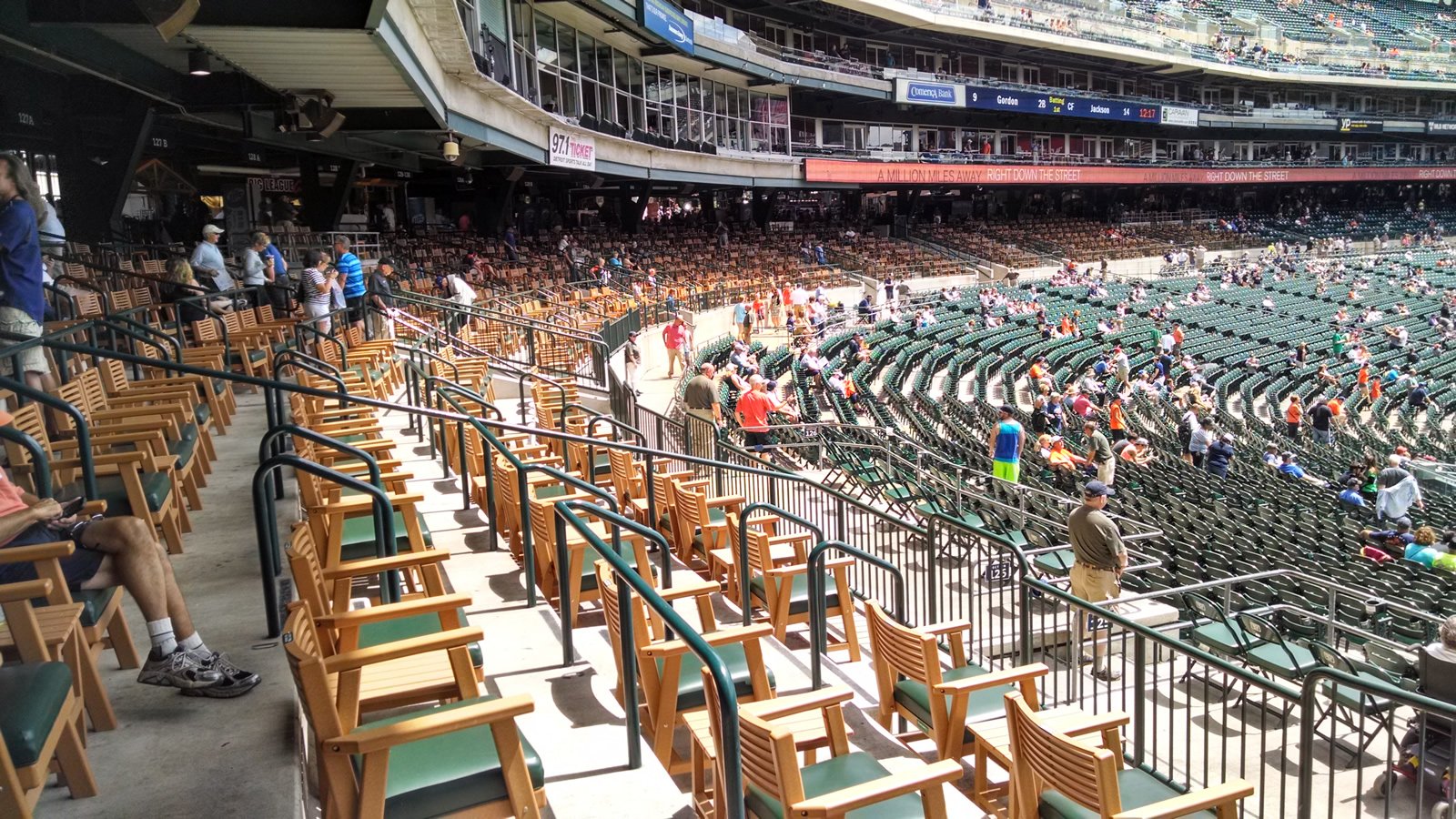 Best Seats for Impressing a Guest at Comerica Park
Recommended seats are highlighted on the map
It's difficult to find a more impressive spot at Comerica Park than the premium Tigers Den seats located just above the lower level between the dugouts. The seats themselves are some of the most unique in baseball, featuring a wide wooden chair (but still padded) that resembles something you might find on a comfortable backyard patio rather than in a ballpark. A private table between each pair of seats provides a great spot to place your food and beverage - which you can order and have delivered all while never having to leave your seat. Fans also get excellent overhead coverage providing relief from the weather, and will have access to the upscale Tiger Den club lounge.

The Terrace seats offer a good alternative to the Tigers Den, although with less in the premium amenities department. You won't get access to the club lounge or have in-seat wait service, but these seats are still very unique with plush padded seating, private tables in front of the seats, excellent coverage, and a smaller seating environment for a more intimate feel. Among the best options throughout the Terrace are sections 136T-138T as they keep you closer to the Tigers dugout. Just be sure to stick with rows A-G, as there are some seats in the last row (H) which have less than ideal views behind support beams.
If you're not all about the premium bells and whistles, consider searching in rows 7-11 of sections 132-134 if you want to leave a lasting impression. These seats get you within 5 rows of the back of the Tigers dugout, and you'd be hard pressed to find a better spot for up-close views of the players as they move about between innings or await their turn at the dish in the on-deck circle. You'll also get sensational views of the infield, pitchers mound, and a great angle for appreciating the Detroit architecture in the backdrop of right center field.
And while the right field balcony (sections RB1-RB3) might not pop out as being an impressive option for enjoying a Tigers game at Comerica, these seats do provide some unique features which are worth considering. The views of the game will be further, however a ticket here gives fans an office style swivel chair with comfortable mesh backing, personal ledge right in front of the seat, and a large bar area just a few steps away. - RateYourSeats.com
Recommended Ticket Locations
Sections TD120, TD121, TD122 and more
Premium experience in the Tigers Den seats
Padded seating with your own side table
Protective overhang to keep seats in the shade
Rows A-G in Sections 136T, 137T and 138T
Unique seating including small tables in the Tiger Terrace
Good proximity to the Tigers dugout and well covered overhead
More affordable option compared to the Tigers Den seats
Rows 7-11 in Sections 132, 133 and 134
Within 5 rows of the Tigers dugout!
Stunning views of the infield, pitchers mound, and home plate
Excellent sight lines to the Detroit architecture beyond right field
Sections RB1, RB2 and RB3
Unique and comfortable office-style swivel chairs
Personal ledge right in front of each seat
Ratings, Reviews & Recommendations
Upper Deck Club Seats Are Padded and Wider
The Club seats in the upper level (Rows 1-5 of Sections 321-333) are padded and wider than regular seats. However, they DO NOT come with special privileges like access to the Tiger Club or Lounge
Other Popular Seating Choices
RateYourSeats.com is the best way to search, compare and buy tickets. Select an event to find out why!