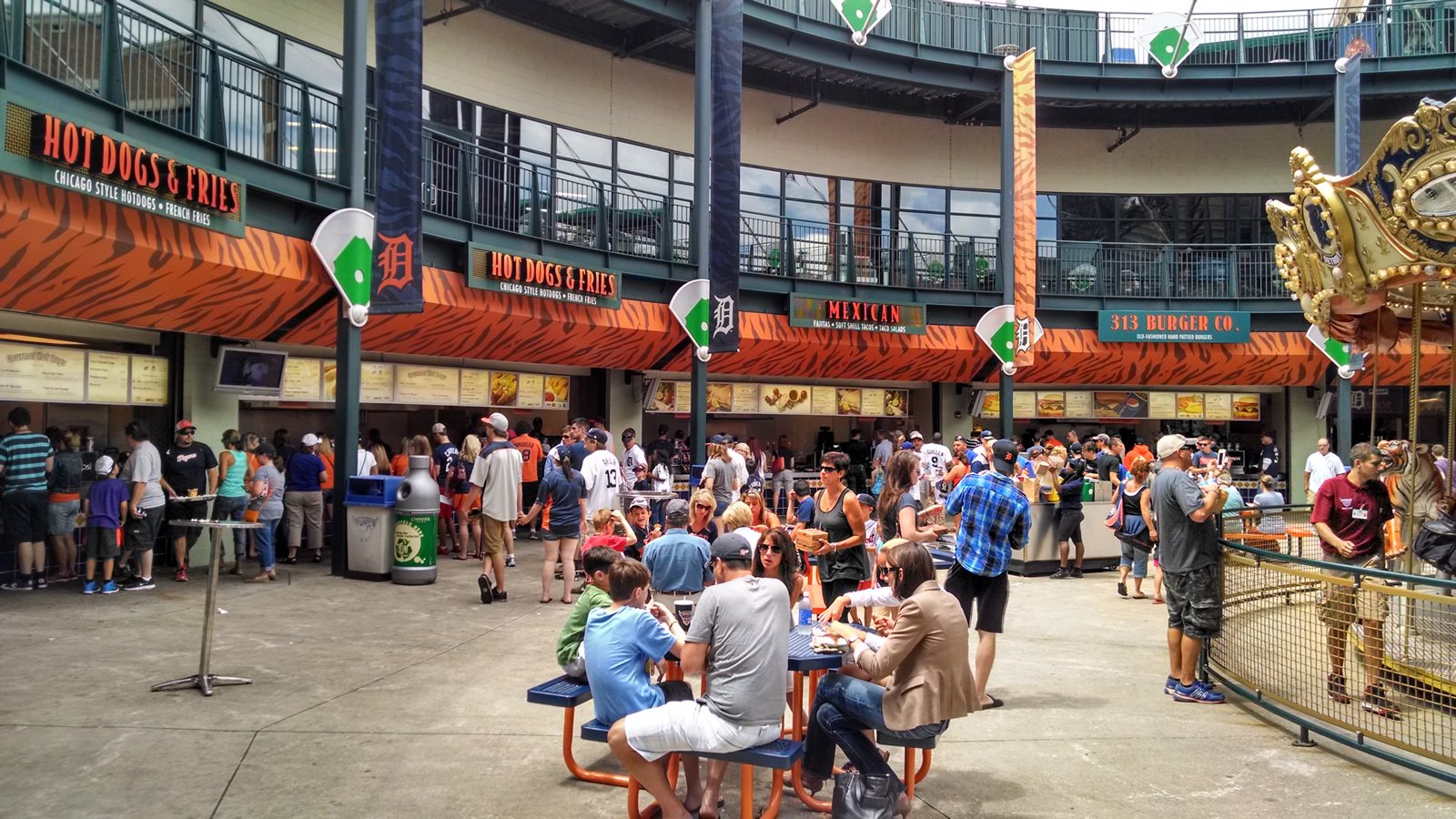 Best Seats for Kids and Family at Comerica Park
Recommended seats are highlighted on the map
The Big Cat Food court is one of the best places to visit if you're bringing the family to a Tigers game at Comerica Park, and to stay close by we recommend searching for tickets in sections 118-120 down the first base line. Unfortunately you won't find much overhead coverage to provide shade in the middle of the day, however these seats do face towards the east helping to put the sun at your back sooner and also give you a great angle to the videoboard. At the Big Cat Food Court you'll find a treasure chest of concession options which offer something for just about everyone, picnic style tables, and at the very center of it all you can catch a ride on the old fashioned carousel! Opt for seats in rows 26 and higher and you'll never be more than a 10 row walk from all the concourse amenities.
The third base side also has a big time attraction with the Fly Ball Ferris Wheel located just above section 132. But for families looking for a stress free day at the ballpark, we recommend sitting a bit closer to home plate (search in sections 128-130) so that you can keep your group safer behind the protective netting. You'll feel close to the Tigers dugout, and if you stick to rows 31 and higher you're always just a short walk to and from the seats (no more than 5 rows).
Other than the premium Tiger Den and Tiger Terrace seats, there unfortunately aren't a ton of options for keeping your family out of the midday sun at Comerica Park. However if you can find tickets in rows 38 and higher of sections 112-114, you'll find some rare coverage and shade thanks to the overhanging Tiger Club structure above the seats. An interactive area with fun tee ball games and a pitch speed booth are just a short walk away (outside section 106), and it also won't take all that long to get to all the fun of the Big Cat Food Court near section 119. It is important to note that rows 37 and higher in sections 112-114 are in an upper portion of the section, and as such there is a safety railing just in front of row 37. We recommend avoiding row 37 if bringing your little ones as it may be difficult for them to see clearly to the field. - RateYourSeats.com
Recommended Ticket Locations
Rows 26-35 in Sections 118, 119 and 120
Right by the Carousel located just behind section 119
Great food options for any appetite at the Big Cat Food Court
Excellent viewing angle to the videoboard and just 10 rows from the concourse
Rows 31-35 in Sections 128, 129 and 130
Ride the Fly Ball Ferris Wheel just outside section 132
Good views of the Tigers players entering and exiting the dugout
Short 5 row walk to and from the concourse and behind the safety netting
Rows 38-45 in Sections 112, 113 and 114
Close to the entertaining tee-ball and pitch speed games near section 106
Good coverage and shade provided by the overhanging Tiger Club
Short walk to the Big Cat Food Court and Carosel
Other Popular Seating Choices
RateYourSeats.com is the best way to search, compare and buy tickets. Select an event to find out why!