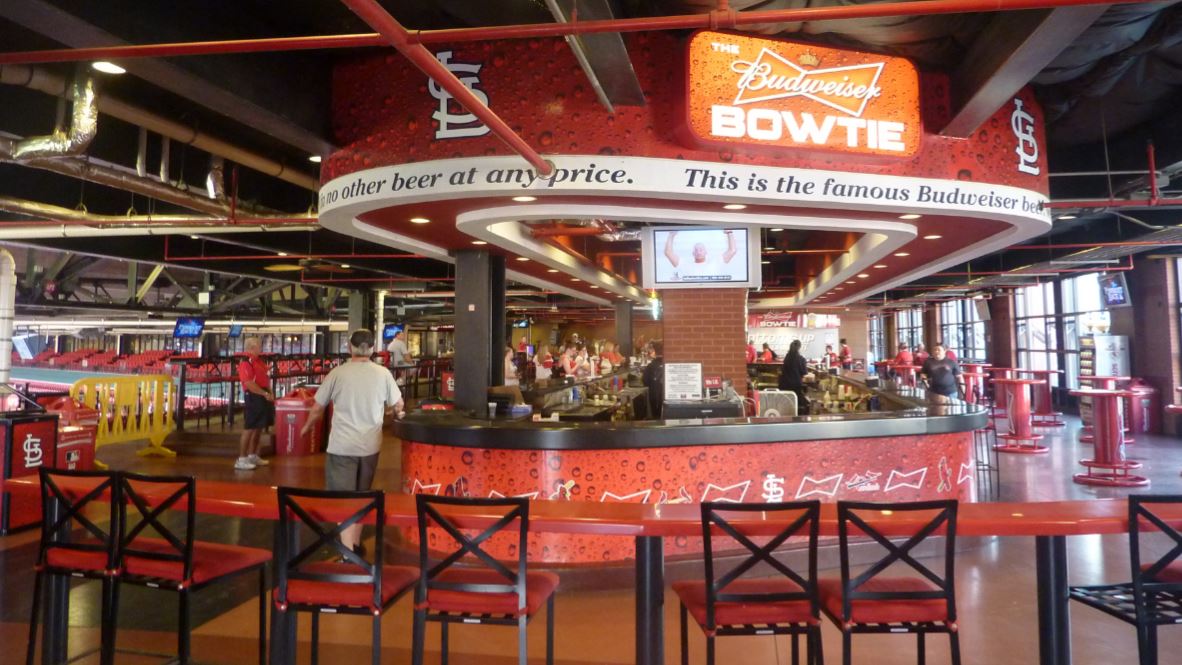 Best Seats for Partying and Socializing at Busch Stadium
Recommended seats are highlighted on the map
With St. Louis being the home of Anheuser-Busch, it's not surprising that Busch Stadium has a number of areas that cater to beer-drinking baseball fans.
Before or after the game, consider stopping by Ballpark Village – the sports and entertainment hub of downtown St. Louis. There you'll find restaurants, bars, live radio shows and one of the largest television screens in the city. This is also the area where Rooftop and Deck seating has been added. Although they're technically not within Busch Stadium, these are ticketed seating locations with views of the game and additional amenities.
For fans looking to drink within the gates of Busch Stadium, there are no shortages of options. Nearly every lower level section is close to some combination of frozen drinks, premium liquor and, of course, Bud products. Left field, in particular, is close to a high concentration of adult beverages and is one of the best places to sit and enjoy a cold one at a Cardinals game.
Meanwhile, fans seated in the Left Field Porch sections will be close to the Bowtie Bar and Bottoms Up. This area features a large central bar, bar seating, table seating and drink rails – making it a preferred option among fans looking for room to socialize.
For fans seated on the 200 level, there are bars on either side of the field for Redbird Club ticketholders and a number of drink options near section 266 for non-club patrons. On the Terrace Level, most alcohol is purchased through common concession stands – though there is plenty of space to congregate on the concourse with friends while still keeping an eye on the game. - RateYourSeats.com
Recommended Ticket Locations
Sections LP1, LP2 and LP3
Upscale bar located behind this section
Great place for socializing and still watching the game
Lots of televisions nearby for watching replays
Rows 11-25 in Sections 189, 191, 193 and more
Close access to one of the best selections of beverages at Busch Stadium
Close to the 1876 Bar, Whiskey and Vodka bars and margaritas
Fun outfield atmosphere without as much direct sun as in RF
Other Popular Seating Choices
RateYourSeats.com is the best way to search, compare and buy tickets. Select an event to find out why!