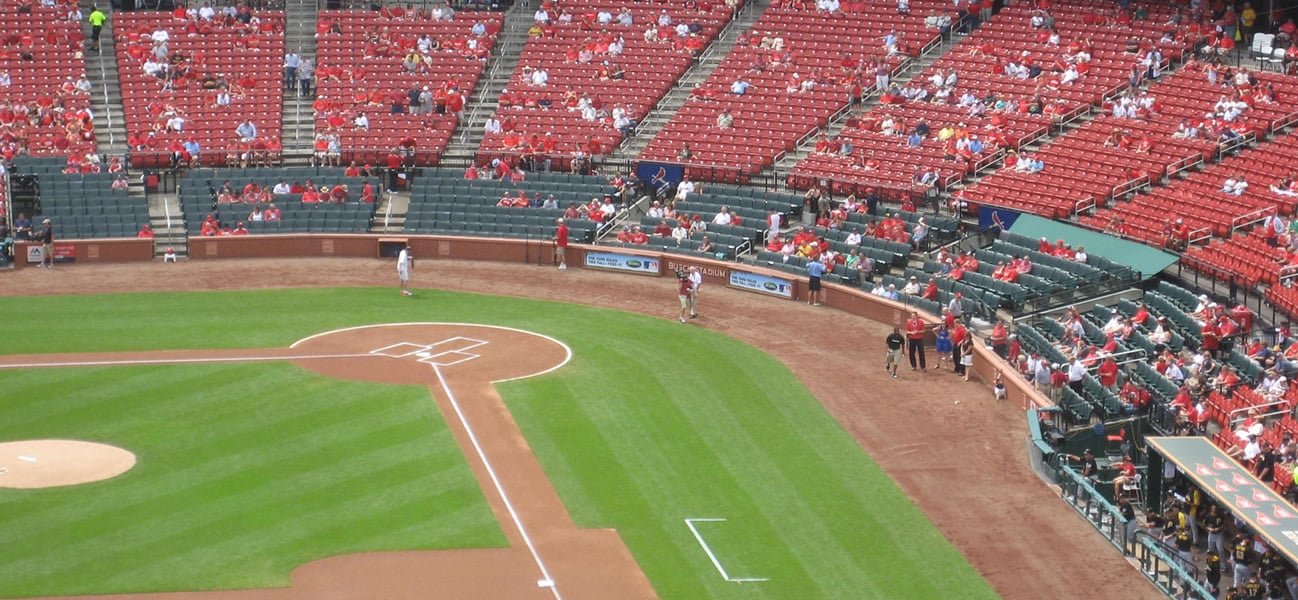 Best Seats for Impressing a Guest at Busch Stadium
Recommended seats are highlighted on the map
The first seats that come to mind when Cardinals fans think about an impressive experience are the Green Seats located directly behind home plate. Not only do these seats give fans first-rate views of the field, they come with such conveniences as in-seat wait service and all-inclusive pricing; not to mention your chances of being on TV are very good.
One of the lesser-known all-inclusive areas at Busch Stadium is the Champions Club down the LF line. Like the Cardinals Club (Green Seats), ticketholders will enjoy all-inclusive food and drink and access to a private reception area. However, when compared to the Cardinals Club, tickets in the Champions Club are usually far more affordable. These seats also have the advantage of being protected from the rain and sun – a desirable feature during the hot St. Louis summers. The nearby Bank of America Club also offers an all-you-can-eat buffet and weather-protected seating.
Other impressive areas at Busch Stadium include the Redbird Club seats on the 200 level. While fans will have access to the climate-controlled club area and exclusive concessions, these seats do not include any wait service or all-inclusive pricing.
Finally, The Commissioner's Box seats located just to the right of the Cardinals dugout are among the most highly sought-after tickets for a Cards game. These seats give Cardinals fans the closest views of their favorite players, outstanding service and complimentary food and drink. Unlike other impressive areas; however, the Commissioner's Box is just a single section with ticket inventory extremely limited. - RateYourSeats.com
Recommended Ticket Locations
Sections 1, 2, 3 and more
All-inclusive seating areas
Your ticket includes food and drink
Tickets also include access to exclusive club areas
Sections 248, 249, 250 and more
Access to the climate-controlled lounge and upscale concessions
Closest seats to the Redbird Lounge for quick getaways and breaks
Some of the best views of the field and the arch
Other Popular Seating Choices
RateYourSeats.com is the best way to search, compare and buy tickets. Select an event to find out why!