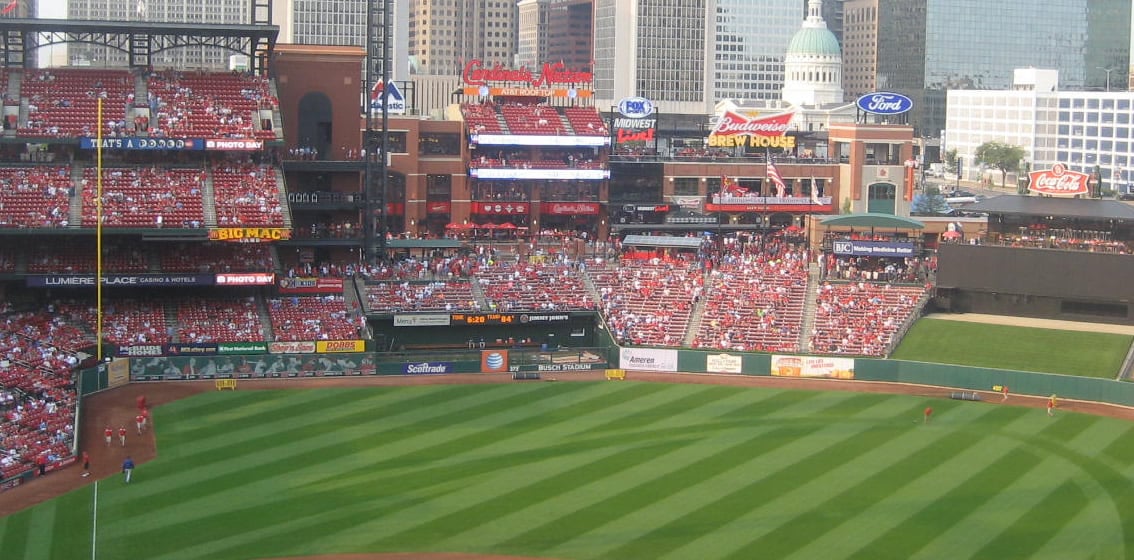 Best Seats for Getting a Ball at Busch Stadium
Recommended seats are highlighted on the map
The sharp angles of seats down the line at Busch Stadium make it one of the more interesting ballparks for catching a foul ball. In particular, the seats known as the Dugout Boxes (132-139, 161-166) jut out towards the field and make them exciting places to sit when balls are fouled off. For fans on other levels of the park, seating on the infield does attract some souvenirs. However, note that some of the overhangs providing you shade will also prevent you from catching a ball.
The dugouts used to be a popular spot for getting a ball - as the players would typically toss some out before the game and between innings. But with the netting now extended to the ends of the dugouts, it is difficult to get a ball from these seats. Instead, consider the first ten rows of sections 141 and 159 which now receive a majority of these between-inning souvenirs.
As far as the fans are concerned, Busch Stadium is one of the most unfriendly ballparks for catching a home run. The large bullpens in left and right field swallow up a number of would-be souvenirs. For your best chance at going home with a longball, you'll want to find seats in one of the first five rows of the outfield. The dimensions of Busch Stadium, coupled with some space between the fence and fans, make it unlikely that balls reach any of the higher rows. - RateYourSeats.com
Recommended Ticket Locations
Rows 1-5 in Sections 127, 128, 171 and more
Highest concentration of home run balls, especially in the first three rows
Sections 171-197 see the most homers from right-handers
Sections 127-128 see the most homers from left-handers
Rows A-L, 1-7 in Sections 135, 136, 137 and more
Excellent angle towards home plate and seeing foul balls off the bat
In sections 135-140, be alert for foul balls from right-handed batters
In sections 161-165, be alert for foul balls from left-handed batters
Other Popular Seating Choices
RateYourSeats.com is the best way to search, compare and buy tickets. Select an event to find out why!