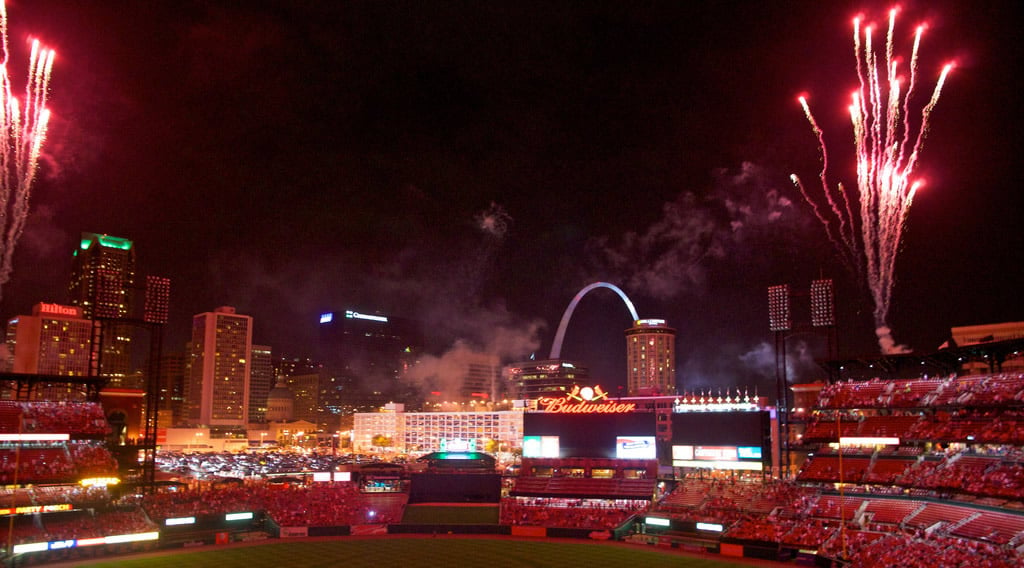 Best Seats for Kids and Family at Busch Stadium
Recommended seats are highlighted on the map
Generally speaking, fans at Busch Stadium are well-behaved and create a family friendly atmosphere. As a result, there aren't many seats that are off-limits for bringing the kids. Instead, you'll want to pay close attention to finding seats out of the sun (during day games) and seats that are close to the amenities kids frequent (concession stands and restrooms).
One area to visit before or during the game is the kids area in center-field near section 101. This fully-covered and shaded area offers kids a chance to take batting practice, test the speed of their pitch and enjoy healthy kid-friendly snacks. A new Build-a-Bear is also located nearby on the center-field plaza.
For families with a healthier budget, consider the top rows of sections 152-154. These sections are close to the Busch Stadium Build-a-Bear where your young one can build a Fredbird and take it home as a memory to cherish. Even if you don't want to spend the money on another stuffed animal, these sections are smaller than average so you'll have an easy time getting in and out to grab a snack or to take a bathroom break. As an added bonus, the views from these seats are among the best in the stadium.
If your budget is a little thinner, we recommend seats in sections 352-357 and 452-454 (choose the 400s for a hot or sunny day). These sections will receive shade long before seats on the first base side and are close to the main food plaza behind home plate. Once again, the views from these sections are also above average.
Among seats you want to explicitly avoid are those in RF and down the RF line on all levels. These areas get incredibly hot during day games and are directly in the sun in the early innings of summer games. If you're seated here or considering sitting here, be sure to pack the sunscreen and make sure everyone has a hat and sunglasses. - RateYourSeats.com
Recommended Ticket Locations
Rows 18-26 in Sections 152, 153 and 154
Small sections that make it easy to get to the concourse
Near the Build-A-Bear store in the stadium
Fans can make their own Fredbird to take home, great for children
Rows 5-9 in Sections 352, 353, 354 and more
Within five rows of the section entrance for small climbs to the concourse
Close to the main food plaza and restrooms
Good views of the field and the arch
Rows 1-5 in Sections 452, 453 and 454
Within five rows of the concourse and main food plaza
Among the first seats to be shaded during day games
Lowest ticket price among seats near home plate
Ratings, Reviews & Recommendations
"Section 442 and 445 are good bargains"

-

I think section 445, and to a slightly lesser extent, 442, provide a great view of the action - particularly at first base - for anyone looking for a bargain. My kids are always satisfied with these seats.
Other Popular Seating Choices
RateYourSeats.com is the best way to search, compare and buy tickets. Select an event to find out why!