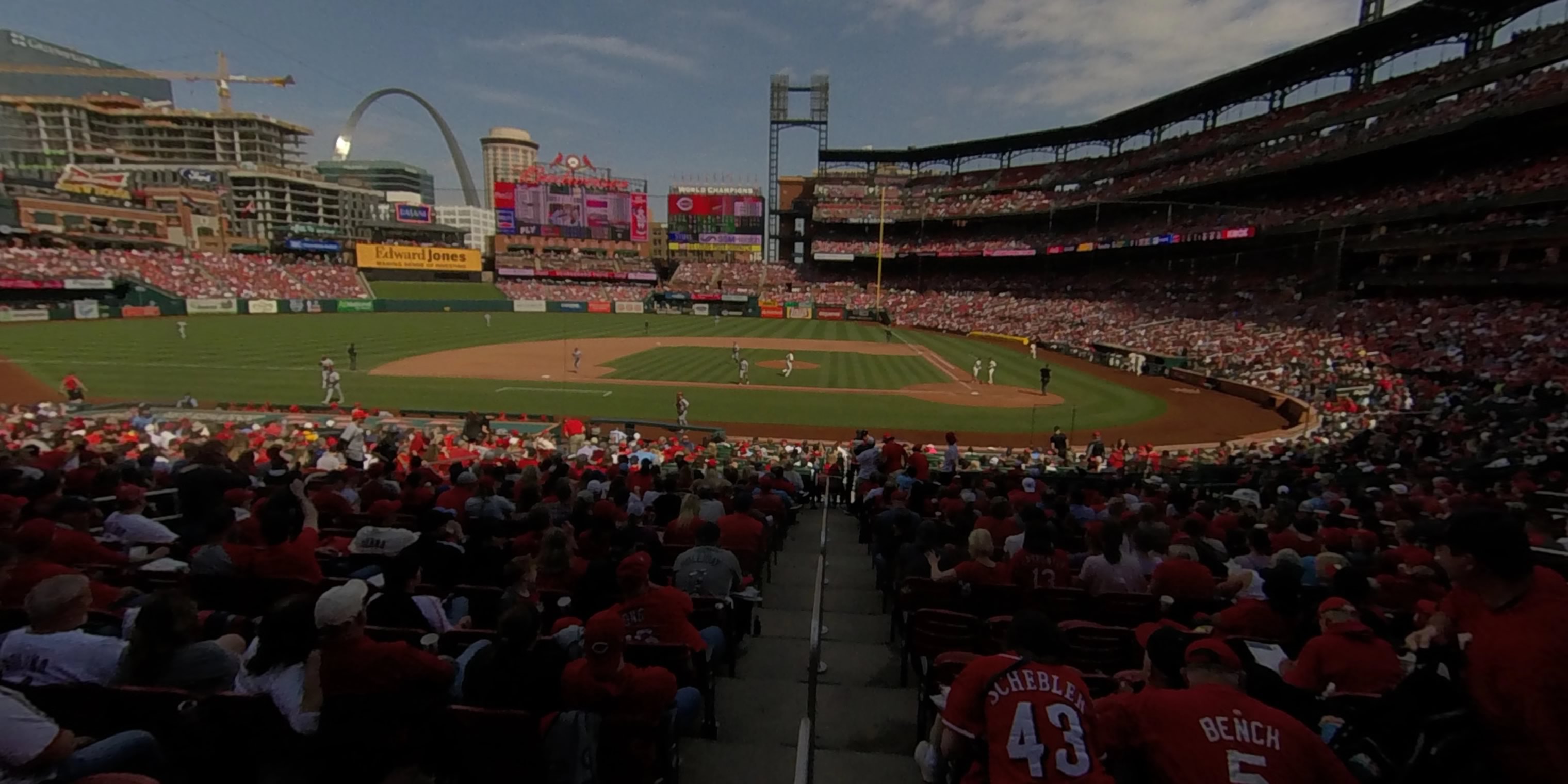 Busch Stadium Section 155
Section 155 Seating Notes
Row Numbers
Rows in Section 155 are labeled A-G, 1-24
There is a walkway betweeen Rows G and 1
An entrance to this section is located at Row 24
Seat Views & Related Photos
Ratings, Reviews & Recommendations
Front of sections 142-158 are behind the netting
There is some amount of netting or screening in front of sections 142-158. The height and coverage of netting or screening will vary by section.
Home Field Box

(Seating Zone) -

Located on the lowest tier of the stadium, these infield seats are second in viewing experience only to the premium Cardinal Club seating directly behind home plate.

Cardinals fans will enj...

"Infield!!"

(Section 145) - -

If you wanna watch game, this is the best!

"Padded seats behind the visitor dugout!"

(Section 158) - -

I purchased these tickets specifically because they were behind the White Sox dugout. These seats afford you an awesome view of the whole field and especially the infield. You're about in line with third base and have a perfect view of the batter/pitcher exchange along with the right field scoreboar...
Other Popular Seating Choices
RateYourSeats.com is the best way to search, compare and buy tickets. Select an event to find out why!
Event Schedule
18Oct

NLCS: Washington Nationals at St. Louis Cardinals

Busch Stadium - St. Louis, MO

Friday, October 18 at 7:08 PM

19Oct

NLCS: Washington Nationals at St. Louis Cardinals

Busch Stadium - St. Louis, MO

Saturday, October 19 at 7:08 PM

25Oct

World Series: TBD at St. Louis Cardinals

Busch Stadium - St. Louis, MO

Friday, October 25 at Time TBA

26Oct

World Series: TBD at St. Louis Cardinals

Busch Stadium - St. Louis, MO

Saturday, October 26 at Time TBA

27Oct

World Series: TBD at St. Louis Cardinals

Busch Stadium - St. Louis, MO

Sunday, October 27 at Time TBA

2Apr

Baltimore Orioles at St. Louis Cardinals

Busch Stadium - St. Louis, MO

Thursday, April 2 at Time TBA

4Apr

Baltimore Orioles at St. Louis Cardinals

Busch Stadium - St. Louis, MO

Saturday, April 4 at Time TBA

5Apr

Baltimore Orioles at St. Louis Cardinals

Busch Stadium - St. Louis, MO

Sunday, April 5 at Time TBA

6Apr

Los Angeles Dodgers at St. Louis Cardinals

Busch Stadium - St. Louis, MO

Monday, April 6 at Time TBA

7Apr

Los Angeles Dodgers at St. Louis Cardinals

Busch Stadium - St. Louis, MO

Tuesday, April 7 at Time TBA

8Apr

Los Angeles Dodgers at St. Louis Cardinals

Busch Stadium - St. Louis, MO

Wednesday, April 8 at Time TBA

9Apr

Los Angeles Dodgers at St. Louis Cardinals

Busch Stadium - St. Louis, MO

Thursday, April 9 at Time TBA

20Apr

Cincinnati Reds at St. Louis Cardinals

Busch Stadium - St. Louis, MO

Monday, April 20 at Time TBA

21Apr

Cincinnati Reds at St. Louis Cardinals

Busch Stadium - St. Louis, MO

Tuesday, April 21 at Time TBA

22Apr

Cincinnati Reds at St. Louis Cardinals

Busch Stadium - St. Louis, MO

Wednesday, April 22 at Time TBA

25Apr

Miami Marlins at St. Louis Cardinals

Busch Stadium - St. Louis, MO

Saturday, April 25 at Time TBA

6May

San Diego Padres at St. Louis Cardinals

Busch Stadium - St. Louis, MO

Wednesday, May 6 at Time TBA

20May

Atlanta Braves at St. Louis Cardinals

Busch Stadium - St. Louis, MO

Wednesday, May 20 at Time TBA

22May

Arizona Diamondbacks at St. Louis Cardinals

Busch Stadium - St. Louis, MO

Friday, May 22 at Time TBA

23May

Arizona Diamondbacks at St. Louis Cardinals

Busch Stadium - St. Louis, MO

Saturday, May 23 at Time TBA

24May

Arizona Diamondbacks at St. Louis Cardinals

Busch Stadium - St. Louis, MO

Sunday, May 24 at Time TBA

29May

Pittsburgh Pirates at St. Louis Cardinals

Busch Stadium - St. Louis, MO

Friday, May 29 at Time TBA

30May

Pittsburgh Pirates at St. Louis Cardinals

Busch Stadium - St. Louis, MO

Saturday, May 30 at Time TBA

31May

Pittsburgh Pirates at St. Louis Cardinals

Busch Stadium - St. Louis, MO

Sunday, May 31 at Time TBA

2Jun

Toronto Blue Jays at St. Louis Cardinals

Busch Stadium - St. Louis, MO

Tuesday, June 2 at Time TBA

16Jun

Colorado Rockies at St. Louis Cardinals

Busch Stadium - St. Louis, MO

Tuesday, June 16 at Time TBA

17Jun

Colorado Rockies at St. Louis Cardinals

Busch Stadium - St. Louis, MO

Wednesday, June 17 at Time TBA

18Jun

Colorado Rockies at St. Louis Cardinals

Busch Stadium - St. Louis, MO

Thursday, June 18 at Time TBA

20Jun

Cincinnati Reds at St. Louis Cardinals

Busch Stadium - St. Louis, MO

Saturday, June 20 at Time TBA

29Jun

Washington Nationals at St. Louis Cardinals

Busch Stadium - St. Louis, MO

Monday, June 29 at Time TBA

30Jun

Washington Nationals at St. Louis Cardinals

Busch Stadium - St. Louis, MO

Tuesday, June 30 at Time TBA

1Jul

Washington Nationals at St. Louis Cardinals

Busch Stadium - St. Louis, MO

Wednesday, July 1 at Time TBA

2Jul

Washington Nationals at St. Louis Cardinals

Busch Stadium - St. Louis, MO

Thursday, July 2 at Time TBA

4Jul

Milwaukee Brewers at St. Louis Cardinals

Busch Stadium - St. Louis, MO

Saturday, July 4 at Time TBA

17Jul

New York Yankees at St. Louis Cardinals

Busch Stadium - St. Louis, MO

Friday, July 17 at Time TBA

18Jul

New York Yankees at St. Louis Cardinals

Busch Stadium - St. Louis, MO

Saturday, July 18 at Time TBA

19Jul

New York Yankees at St. Louis Cardinals

Busch Stadium - St. Louis, MO

Sunday, July 19 at Time TBA

20Jul

San Francisco Giants at St. Louis Cardinals

Busch Stadium - St. Louis, MO

Monday, July 20 at Time TBA

21Jul

San Francisco Giants at St. Louis Cardinals

Busch Stadium - St. Louis, MO

Tuesday, July 21 at Time TBA

22Jul

San Francisco Giants at St. Louis Cardinals

Busch Stadium - St. Louis, MO

Wednesday, July 22 at Time TBA

8Aug

Cincinnati Reds at St. Louis Cardinals

Busch Stadium - St. Louis, MO

Saturday, August 8 at Time TBA

10Aug

Pittsburgh Pirates at St. Louis Cardinals

Busch Stadium - St. Louis, MO

Monday, August 10 at Time TBA

11Aug

Pittsburgh Pirates at St. Louis Cardinals

Busch Stadium - St. Louis, MO

Tuesday, August 11 at Time TBA

12Aug

Pittsburgh Pirates at St. Louis Cardinals

Busch Stadium - St. Louis, MO

Wednesday, August 12 at Time TBA

14Aug

Milwaukee Brewers at St. Louis Cardinals

Busch Stadium - St. Louis, MO

Friday, August 14 at Time TBA

15Aug

Milwaukee Brewers at St. Louis Cardinals

Busch Stadium - St. Louis, MO

Saturday, August 15 at Time TBA

16Aug

Milwaukee Brewers at St. Louis Cardinals

Busch Stadium - St. Louis, MO

Sunday, August 16 at Time TBA

28Aug

Pittsburgh Pirates at St. Louis Cardinals

Busch Stadium - St. Louis, MO

Friday, August 28 at Time TBA

29Aug

Pittsburgh Pirates at St. Louis Cardinals

Busch Stadium - St. Louis, MO

Saturday, August 29 at Time TBA

30Aug

Pittsburgh Pirates at St. Louis Cardinals

Busch Stadium - St. Louis, MO

Sunday, August 30 at Time TBA

31Aug

Philadelphia Phillies at St. Louis Cardinals

Busch Stadium - St. Louis, MO

Monday, August 31 at Time TBA

1Sep

Philadelphia Phillies at St. Louis Cardinals

Busch Stadium - St. Louis, MO

Tuesday, September 1 at Time TBA

2Sep

Philadelphia Phillies at St. Louis Cardinals

Busch Stadium - St. Louis, MO

Wednesday, September 2 at Time TBA

3Sep

Philadelphia Phillies at St. Louis Cardinals

Busch Stadium - St. Louis, MO

Thursday, September 3 at Time TBA

10Sep

Chicago Cubs at St. Louis Cardinals

Busch Stadium - St. Louis, MO

Thursday, September 10 at Time TBA

11Sep

Chicago Cubs at St. Louis Cardinals

Busch Stadium - St. Louis, MO

Friday, September 11 at Time TBA

12Sep

Chicago Cubs at St. Louis Cardinals

Busch Stadium - St. Louis, MO

Saturday, September 12 at Time TBA

13Sep

Chicago Cubs at St. Louis Cardinals

Busch Stadium - St. Louis, MO

Sunday, September 13 at Time TBA

15Sep

Kansas City Royals at St. Louis Cardinals

Busch Stadium - St. Louis, MO

Tuesday, September 15 at Time TBA

16Sep

Kansas City Royals at St. Louis Cardinals

Busch Stadium - St. Louis, MO

Wednesday, September 16 at Time TBA

21Sep

Milwaukee Brewers at St. Louis Cardinals

Busch Stadium - St. Louis, MO

Monday, September 21 at Time TBA

22Sep

Milwaukee Brewers at St. Louis Cardinals

Busch Stadium - St. Louis, MO

Tuesday, September 22 at Time TBA