Where is Row DAC in Section 343 at Comerica Park?
I have a heart problem and stairs are not my friend. Where exactly are these seats and will it be a problem going to the bathroom or getting to a concession stand? And will I need to bring my car's handicapped sticker with me?
Jul 2014
Answered by Brian at RateYourSeats.com...
Row DAC is the ADA accessible seating row which is located just above Row C in Section 343. These seats are positioned on the same level as the entry tunnel, so you will not need to walk any stairs at all when traveling between your seat and the 300 level concourse for trips to the concessions and restrooms.
The nearest mens room is located nearby outside Section 345, and the nearest womens room is even closer outside of Section 344. Food and beverage should be even easier to get as there is a Big League Grill concession stand located just outside Section 343.
As for bringing your handicap sticker for parking purposes, we recommend bringing it as it allow you to park in the closer lots reserved for handicapped guests (but these can fill up quickly so we recommend getting there early). If you are not able to get a nearby spot however, there is a drop off area located at Gate B on the corner of Witherell and Adams.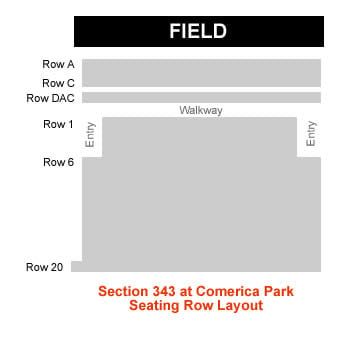 Asked July 14, 2014 for Detroit Tigers vs. Cleveland Indians on Jul 18, 2014
Interactive Seating Chart
Other Popular Seating Choices