New Jersey Devils Club Seating at Prudential Center
Select a premium seating area for tickets and more information.
Overview
Perhaps the most comfortable seating option at the Prudential Center, the Restaurant Ledge is perfect for entertaining and impressing a guest and client. Views of the action aren't on par with lower level club seats, but you'll have a tremendous amount of space, no lines and a comfortable chair.

Restaurant ledge seats offer high-end sit down dining overlooking the ice. Fans will enjoy an upscale pre-game buffet, and designated ledge seating featuring personal counter space for each seat.
Goal Bar
Overview
Perfect for fans who want to gather in an ideal group setting, Bar seating features small sections for easy-in and out and plenty of places to congregate during the game and between periods.

The Goal Bar seats gives fans access to top-shelf bars, a private lounge and concessions, all from luxurious seating behind the net on the second seating tier.


All Goal Bar Details
Club Seats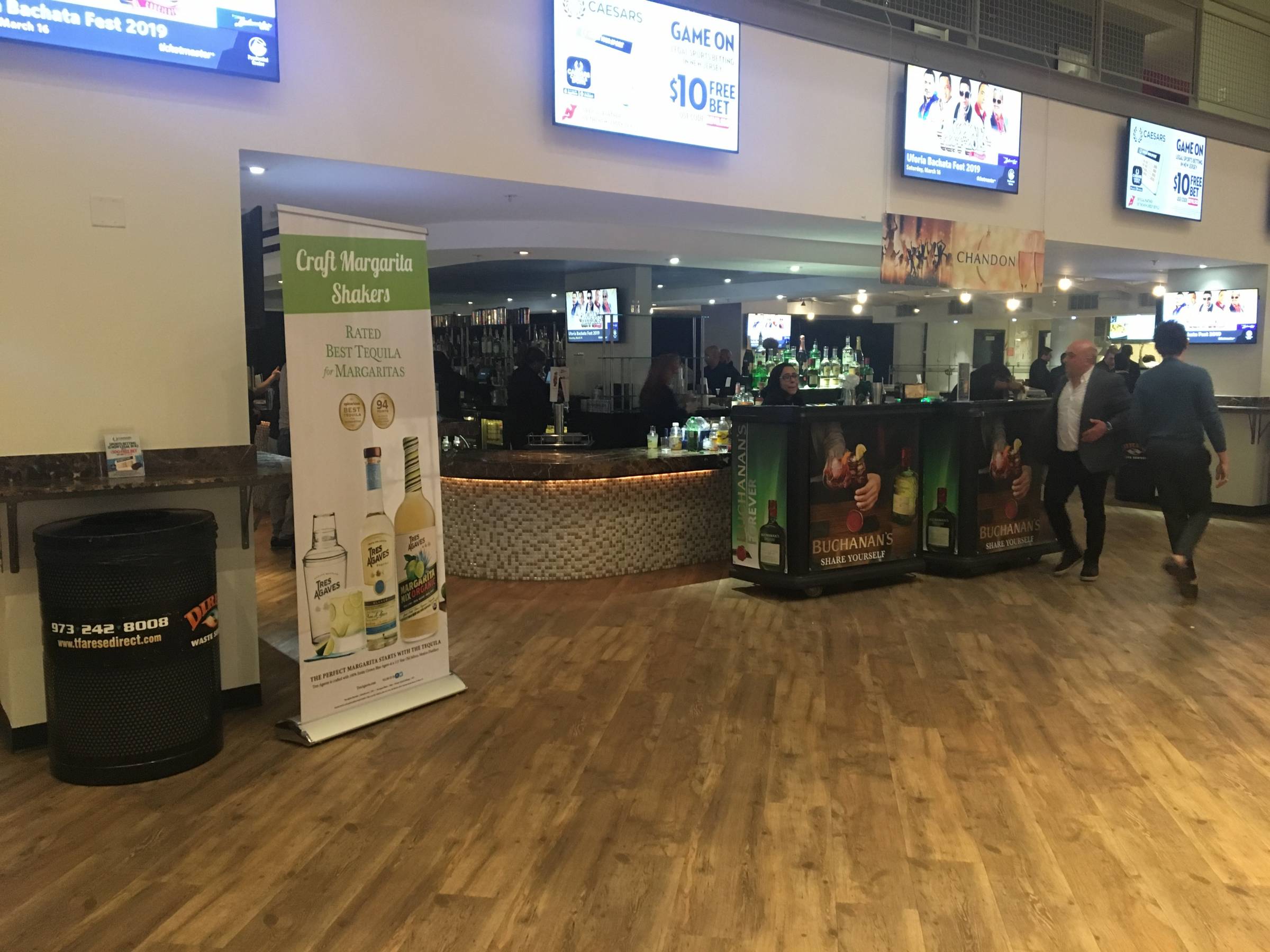 Overview
The entire club experience at a Devils game has recently been upgraded. Fans seated in sections 8 and 19 will be treated to an upscale experience in addition to amazing sightlines.

Club seat ticketholders will have access to the newly renovated clubs located just a few steps from the main seating bowl. The club lounges feature modern, upscale furnishings, multiple televisions and full-service bars.

Ticketholders will also be treated to an all-inclusive gourmet buffet featuring stadium favorites, local bites and exclusive menu items only available to fans in the club seats.

Rows GL1-5 in sections 7 and 9 are also a part of club seating, as are rows GL1-8 in sections 18 and 20.
All Club Seats Details
Other Popular Seating Choices

Select an event to search tickets in these seats.
Devils Shoot Twice
RateYourSeats.com is the best way to search, compare and buy tickets. Select an event to find out why!
Event Schedule
Devils
Seton Hall
Concert
Other Basketball
Other Basketball
Other
20Sep

NHL Preseason - New York Rangers at New Jersey Devils

Prudential Center - Newark, NJ

Friday, September 20 at 7:00 PM

21Sep

NHL Preseason - New York Islanders at New Jersey Devils

Prudential Center - Newark, NJ

Saturday, September 21 at 7:00 PM

27Sep

Heart with Joan Jett and the Blackhearts

Prudential Center - Newark, NJ

Friday, September 27 at 7:00 PM

3Oct

2019-2020 New Jersey Devils Season Tickets

Prudential Center - Newark, NJ

Thursday, October 3 at 12:55 PM

10Oct

Edmonton Oilers at New Jersey Devils

Prudential Center - Newark, NJ

Thursday, October 10 at 7:00 PM

14Oct

Florida Panthers at New Jersey Devils

Prudential Center - Newark, NJ

Monday, October 14 at 1:00 PM

17Oct

New York Rangers at New Jersey Devils

Prudential Center - Newark, NJ

Thursday, October 17 at 7:00 PM

19Oct

Vancouver Canucks at New Jersey Devils

Prudential Center - Newark, NJ

Saturday, October 19 at 1:00 PM

25Oct

Arizona Coyotes at New Jersey Devils

Prudential Center - Newark, NJ

Friday, October 25 at 7:00 PM

26Oct

Powerhouse: Migos, Meek Mill, Lil Baby

Prudential Center - Newark, NJ

Saturday, October 26 at 7:00 PM

30Oct

Tampa Bay Lightning at New Jersey Devils

Prudential Center - Newark, NJ

Wednesday, October 30 at 7:00 PM

1Nov

Philadelphia Flyers at New Jersey Devils

Prudential Center - Newark, NJ

Friday, November 1 at 7:00 PM

6Nov

Disney On Ice: Road Trip Adventures

Prudential Center - Newark, NJ

Wednesday, November 6 at 7:00 PM

7Nov

Disney On Ice: Road Trip Adventures

Prudential Center - Newark, NJ

Thursday, November 7 at 7:00 PM

9Nov

Disney On Ice: Road Trip Adventures

Prudential Center - Newark, NJ

Saturday, November 9 at 11:00 AM

9Nov

Disney On Ice: Road Trip Adventures

Prudential Center - Newark, NJ

Saturday, November 9 at 3:00 PM

9Nov

Disney On Ice: Road Trip Adventures

Prudential Center - Newark, NJ

Saturday, November 9 at 7:00 PM

10Nov

Disney On Ice: Road Trip Adventures

Prudential Center - Newark, NJ

Sunday, November 10 at 11:00 AM

10Nov

Disney On Ice: Road Trip Adventures

Prudential Center - Newark, NJ

Sunday, November 10 at 3:00 PM

10Nov

Disney On Ice: Road Trip Adventures

Prudential Center - Newark, NJ

Sunday, November 10 at 7:00 PM

13Nov

Ottawa Senators at New Jersey Devils

Prudential Center - Newark, NJ

Wednesday, November 13 at 7:00 PM

14Nov

Michigan State Spartans at Seton Hall Pirates

Prudential Center - Newark, NJ

Thursday, November 14 at 8:30 PM

15Nov

Pittsburgh Penguins at New Jersey Devils

Prudential Center - Newark, NJ

Friday, November 15 at 7:00 PM

19Nov

Boston Bruins at New Jersey Devils

Prudential Center - Newark, NJ

Tuesday, November 19 at 7:00 PM

23Nov

Florida A&M Rattlers at Seton Hall Pirates

Prudential Center - Newark, NJ

Saturday, November 23 at 12:00 PM

23Nov

Detroit Red Wings at New Jersey Devils

Prudential Center - Newark, NJ

Saturday, November 23 at 7:00 PM

26Nov

Minnesota Wild at New Jersey Devils

Prudential Center - Newark, NJ

Tuesday, November 26 at 7:00 PM

30Nov

New York Rangers at New Jersey Devils

Prudential Center - Newark, NJ

Saturday, November 30 at 1:00 PM

3Dec

Vegas Golden Knights at New Jersey Devils

Prudential Center - Newark, NJ

Tuesday, December 3 at 7:00 PM

6Dec

Chicago Blackhawks at New Jersey Devils

Prudential Center - Newark, NJ

Friday, December 6 at 7:00 PM

18Dec

Anaheim Ducks at New Jersey Devils

Prudential Center - Newark, NJ

Wednesday, December 18 at 7:00 PM

19Dec

Maryland Terrapins at Seton Hall Pirates

Prudential Center - Newark, NJ

Thursday, December 19 at 7:00 PM

20Dec

Washington Capitals at New Jersey Devils

Prudential Center - Newark, NJ

Friday, December 20 at 7:00 PM

22Dec

Prairie View A&M Panthers at Seton Hall Pirates

Prudential Center - Newark, NJ

Sunday, December 22 at 4:30 PM

27Dec

Toronto Maple Leafs at New Jersey Devils

Prudential Center - Newark, NJ

Friday, December 27 at 7:00 PM

31Dec

Boston Bruins at New Jersey Devils

Prudential Center - Newark, NJ

Tuesday, December 31 at 1:00 PM

3Jan

Georgetown Hoyas at Seton Hall Pirates

Prudential Center - Newark, NJ

Friday, January 3 at 9:00 PM

4Jan

Colorado Avalanche at New Jersey Devils

Prudential Center - Newark, NJ

Saturday, January 4 at 7:00 PM

7Jan

New York Islanders at New Jersey Devils

Prudential Center - Newark, NJ

Tuesday, January 7 at 7:00 PM

11Jan

Marquette Golden Eagles at Seton Hall Pirates

Prudential Center - Newark, NJ

Saturday, January 11 at 4:00 PM

12Jan

Tampa Bay Lightning at New Jersey Devils

Prudential Center - Newark, NJ

Sunday, January 12 at 7:00 PM

22Jan

Providence College Friars at Seton Hall Pirates

Prudential Center - Newark, NJ

Wednesday, January 22 at 8:30 PM

29Jan

DePaul Blue Demons at Seton Hall Pirates

Prudential Center - Newark, NJ

Wednesday, January 29 at 6:30 PM

30Jan

Nashville Predators at New Jersey Devils

Prudential Center - Newark, NJ

Thursday, January 30 at 7:00 PM

1Feb

Xavier Musketeers at Seton Hall Pirates

Prudential Center - Newark, NJ

Saturday, February 1 at 11:00 AM

4Feb

Montreal Canadiens at New Jersey Devils

Prudential Center - Newark, NJ

Tuesday, February 4 at 7:00 PM

8Feb

Los Angeles Kings at New Jersey Devils

Prudential Center - Newark, NJ

Saturday, February 8 at 7:00 PM

11Feb

Florida Panthers at New Jersey Devils

Prudential Center - Newark, NJ

Tuesday, February 11 at 7:00 PM

12Feb

Creighton Bluejays at Seton Hall Pirates

Prudential Center - Newark, NJ

Wednesday, February 12 at 6:30 PM

13Feb

Detroit Red Wings at New Jersey Devils

Prudential Center - Newark, NJ

Thursday, February 13 at 7:00 PM

16Feb

Columbus Blue Jackets at New Jersey Devils

Prudential Center - Newark, NJ

Sunday, February 16 at 6:00 PM

19Feb

Butler Bulldogs at Seton Hall Pirates

Prudential Center - Newark, NJ

Wednesday, February 19 at 6:30 PM

20Feb

San Jose Sharks at New Jersey Devils

Prudential Center - Newark, NJ

Thursday, February 20 at 7:00 PM

22Feb

Washington Capitals at New Jersey Devils

Prudential Center - Newark, NJ

Saturday, February 22 at 1:00 PM

23Feb

St. Johns Red Storm at Seton Hall Pirates

Prudential Center - Newark, NJ

Sunday, February 23 at 2:00 PM

4Mar

Villanova Wildcats at Seton Hall Pirates

Prudential Center - Newark, NJ

Wednesday, March 4 at 8:30 PM

10Mar

Pittsburgh Penguins at New Jersey Devils

Prudential Center - Newark, NJ

Tuesday, March 10 at 7:00 PM

12Mar

Carolina Hurricanes at New Jersey Devils

Prudential Center - Newark, NJ

Thursday, March 12 at 7:00 PM

21Mar

New York Islanders at New Jersey Devils

Prudential Center - Newark, NJ

Saturday, March 21 at 7:00 PM

23Mar

Columbus Blue Jackets at New Jersey Devils

Prudential Center - Newark, NJ

Monday, March 23 at 7:00 PM

28Mar

Philadelphia Flyers at New Jersey Devils

Prudential Center - Newark, NJ

Saturday, March 28 at 2:00 PM

29Mar

Carolina Hurricanes at New Jersey Devils

Prudential Center - Newark, NJ

Sunday, March 29 at 3:00 PM
↑