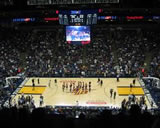 Tickets at Oracle Arena For Golden State Warriors Games
Select an event to see tickets, in-seat photos, seat reviews and more!

Warriors Playoff Tickets 2013
Golden State Warriors playoff tickets are on sale now! RateYourSeats.com can help your compare playoff ticket prices for the Warriors as they make a run towards a title! Warriors tickets are one of the hottest tickets in Oakland, but you can still buy Warriors playoff tickets directly off the Oracle Arena Interactive Seating Chart.
Best Warriors Tickets
RateYourSeats.com helps you find the best Golden State Warriors tickets at the best prices for your next visit to Oracle Arena. Some of the best Warriors tickets can be found in sections 1, 101, 114, 115, . These are Center Court sections which will give you the best view of the action. If you are a diehard Warriors fan, the best Warriors tickets at Oracle Arena are behind the Warriors bench in sections 27, and 28. To discover all of the great seating options at your next Warriors game, use the Oracle Arena Interactive Seating Chart where you can buy Warriors tickets, see photos and read seat reviews.
Cheap Warriors Tickets
Finding the cheapest Warriors tickets at Oracle Arena is easy at RateYourSeats.com. Use our price comparison tools to find discount Warriors tickets and to learn how much Warriors tickets cost at Oracle Arena. Upper level corner and end seats at Oracle Arena for Warriors basketball are usually among the cheapest. By saving money, you will also be sacrificing your view, as many of these seats will be looking through the basket to see the action on the court.