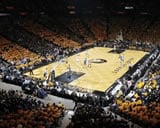 Tickets at Joel Coliseum For Wake Forest Demon Deacons Games
Select an event to see tickets, in-seat photos, seat reviews and more!

Best Wake Forest Tickets
RateYourSeats.com helps you find the best Wake Forest Demon Deacons tickets at the best prices for your next visit to Joel Coliseum . Some of the best Wake Forest tickets can be found in sections 107, 119, 211, and 231. These are Center Court sections which will give you the best view of the action.
Cheap Wake Forest Tickets
Finding the cheapest Wake Forest tickets at Joel Coliseum is easy at RateYourSeats.com. Use our price comparison tools to find discount Wake Forest tickets and to learn how much Wake Forest tickets cost at Joel Coliseum . Upper level corner and end seats at Joel Coliseum for Wake Forest basketball are usually among the cheapest. By saving money, you will also be sacrificing your view, as many of these seats will be looking through the basket to see the action on the court.