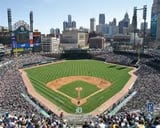 Tickets at Comerica Park For Detroit Tigers Games
Select an event to see tickets, in-seat photos, seat reviews and more!

Best Tigers Tickets
RateYourSeats.com helps you find the best Detroit Tigers tickets at the best prices for your next visit to Comerica Park. If you are a diehard Tigers fan, the best Tigers tickets at Comerica Park are behind the Tigers bench in sections 131, 132, 133, 134, . For high-class amenities and comfort at Comerica Park, choose Club seats including sections 120, 121, 122, 123, . These seats offer special benefits and amenities over common seating. To discover all of the great seating options at your next Tigers game, use the Comerica Park Interactive Seating Chart where you can buy Tigers tickets, see photos and read seat reviews.
Cheap Tigers Tickets
Finding the cheapest Tigers tickets at Comerica Park is easy at RateYourSeats.com. Use our price comparison tools to find discount Tigers tickets and to learn how much Tigers tickets cost at Comerica Park. Upper level seats down the foul lines at Comerica Park are your best bet at finding cheap Tigers tickets. These seats are furthest away from the action, so focus on seats that have a good angle towards home plate so you won't be contorting your body the whole time