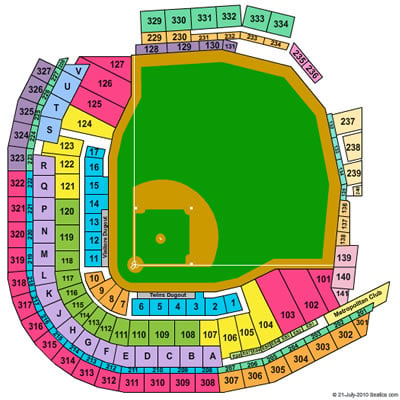 array(1) { [1356006]=> array(6) { ["local"]=> bool(false) ["event_name"]=> string(13) "Kenny Chesney" ["event_time"]=> string(6) "5:00pm" ["event_date"]=> string(27) "Fri, Jul 12, 2013 at 5:00pm" ["vivid_id"]=> int(1356006) ["venue_id"]=> NULL } }
Seats in the Shade
Left Field Seats See the Most Sunshine
Shaded seats at Target Field are fairly easy to come by. Home plate faces east, meaning that the sun will set almost directly behind home plate. Seats directly behind home plate and closest to home plate (infield) -- especially down the first base line -- will see shade first. Left and center field seats will remain in the sun for the longest period of time. An impressive overhang covering nearly half of the Upper Deck keeps many of the higher numbered rows (5+) covered even during afternoon games.
(click to close)
What does the view from the seats at Target Field look like?
Use the interactive seating map to see the view from seats at Target Field for Twins games. The seating chart can help you find the best seats at Target Field with the best view of the action.