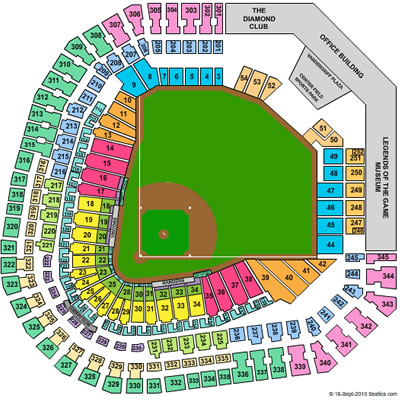 bool(false)
Seats in the Shade
Seating on the First Base Side Gets Shade First
Rangers Ballpark is known to be one of the hottest stadiums in all of baseball. Beating the heat and finding shade at Rangers Ballpark will make the difference between a pleasant experience and a sweaty one. For late afternoon and evening games, the sun will be behind the first base side of the field and seats on that side will see the shade first. Seats in left field will be the last to be in the shade and should be avoided if you are sensitive to the sun. Nearly all seats in right field are under an overhang that provides ample shade. Choose a double-digit row (10 and higher) for your best chance at shade. The Club Level provides access to an indoor concourse, but there are no overhangs protecting the outdoor seats.
(click to close)
What does the view from the seats at Rangers Ballpark look like?
Use the interactive seating map to see the view from seats at Rangers Ballpark for Rangers games. The seating chart can help you find the best seats at Rangers Ballpark with the best view of the action.