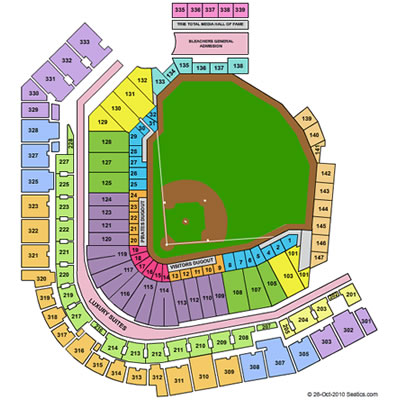 Loading Map...


Filter Tickets
electronic
e-tickets only
location

1

Lexus Club

location

2

Field Level Infield

location

3

Field Level Down the Line

location

4

Box Level Infield

location

5

Box Level Down the Line

location

6

PBC Level Infield

location

7

PBC Level Down the Line

location

8

Grandstand Infield

location

9

Grandstand Down the Line

location

10

Bleacher Reserved

location

11

Outfield Reserved

location

12

Outfield Deck
All Tickets
Aisle Tickets
Tickets Under $
Tickets Behind Pirates Dugout
Tickets Behind Visitor Dugout
Saved Tickets
Click a colored section on the map to see ticket availability!
Infield/Home Plate Seating

Down the Line Seating

Outfield Seating

Scout Seats Seating

Seats in the Shade
Upper Deck on First Base Side Best Chance For Shade at PNC Park
In the lower level, choose high rows in Sections 108-113 if you are looking for shade at a Pirates games. Alternatively, seats In the upper deck on the first base side will be less expensive and still be well shaded. Because of the openness of the outfield, all outfield seating is exposed to the elements. Sections 135-138 and the bleachers are among the worst seats for shade at PNC Park. Similarly, avoid the exposed first few rows of Sections 331-333.
(click to close)
What does the view from the seats at PNC Park look like?
Use the interactive seating map to see the view from seats at PNC Park for Pirates games. The seating chart can help you find the best seats at PNC Park with the best view of the action.