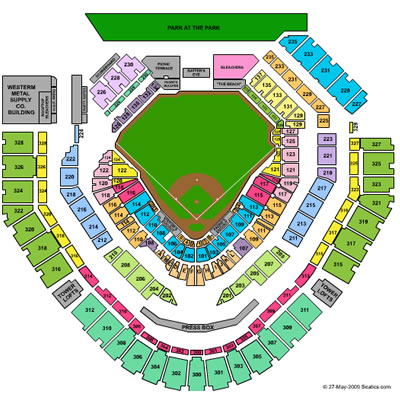 array(3) { [1436442]=> array(6) { ["local"]=> bool(false) ["event_name"]=> string(40) "Club America vs. Tijuana Xoloitzcuintles" ["event_time"]=> string(6) "7:30pm" ["event_date"]=> string(26) "Sat, Jul 6, 2013 at 7:30pm" ["vivid_id"]=> int(1436442) ["venue_id"]=> NULL } [1436998]=> array(6) { ["local"]=> bool(false) ["event_name"]=> string(33) "Perfect Game All-American Classic" ["event_time"]=> string(6) "6:00pm" ["event_date"]=> string(27) "Sun, Aug 11, 2013 at 6:00pm" ["vivid_id"]=> int(1436998) ["venue_id"]=> NULL } [1433066]=> array(6) { ["local"]=> bool(false) ["event_name"]=> string(40) "Mad Decent Block Party feat. Major Lazer" ["event_time"]=> string(8) "Time TBA" ["event_date"]=> string(29) "Mon, Sep 16, 2013 at Time TBA" ["vivid_id"]=> int(1433066) ["venue_id"]=> NULL } }
Seats in the Shade
Third Base Seats Get Shade First at Petco Park
In sunny San Diego, seats on the third base side of the field will get the shade first and have the sun behind them during late afternoon and evening games. In particular, the 200 level seats on the third base side and the second tier of lower level 100 seats on that side are very good for shade. Similarly, the second tier of Sections 111-119 are well-shaded. All Right Field seats -- especially on the 200 level -- are not good for finding shade, nor are seats far down the first base line in the upper deck.
(click to close)
What does the view from the seats at PETCO Park look like?
Use the interactive seating map to see the view from seats at PETCO Park for Padres games. The seating chart can help you find the best seats at PETCO Park with the best view of the action.