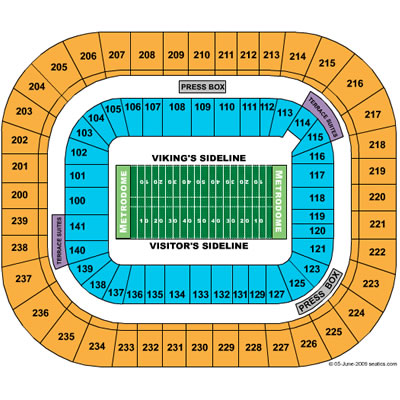 Loading Map...


Filter Tickets
electronic
e-tickets only
location

1

Lower Level Sideline

location

2

Lower Level Corner

location

3

Lower Level Endzone

location

4

Upper Level Sideline

location

5

Upper Level Corner

location

6

Upper Level Endzone
All Tickets
Aisle Tickets
Tickets Under $
Tickets Behind Vikings Sideline
Tickets Behind Visitor Sideline
Saved Tickets
Click a colored section on the map to see ticket availability!
Sideline Seating

End Zone Seating

Corner Seating

What does the view from the seats at Metrodome look like?
Use the interactive seating map to see the view from seats at Metrodome for Vikings games. The seating chart can help you find the best seats at Metrodome with the best view of the action.